The basis for the ISTLAB project
Smart waterways, smart ports, remote piloting and the gradual phasing-in of remotely operated and autonomous ships represent a technological breakthrough, predicted to effect a revolution in the entire maritime cluster in the years and decades to come. The impact will extend to the marine technology industry, the technical nautical industry, to ports, maritime education and training and also to the operations of maritime authorities and classification societies.
Handling 90% of Finland's foreign trade freight transport, the shipping industry and the Finnish maritime industry must have the support by the applied research and training during this historical change. There is a growing need among the players in the maritime industry to acquire experimental research data from fast-developing technologies, and to recruit to their service highly skilled personnel.
The aim of the project
The aim of the project is to create a smart joint-use Intelligent Shipping Technology test Laboratory (ISTLAB), which will merge and consolidate the navigation simulator of Satakunta University of Applied Sciences, the Finnish Transport and Communications Agency's bathymetric model of the Rauma deep-water fairway, Finnish Transport Infrastructure Agency's smart buoy and sea current monitoring, the Finnish Geospatial Research Institute's navigation system research and the Finnish Meteorological Institute's survey of wave, sea level and ice conditions.
The ISTLAB joint-use laboratory will be the first of its kind in Finland, and the first of its kind in the world.
The technology group Wärtsilä has delivered a navigation simulator and specific mathematical models.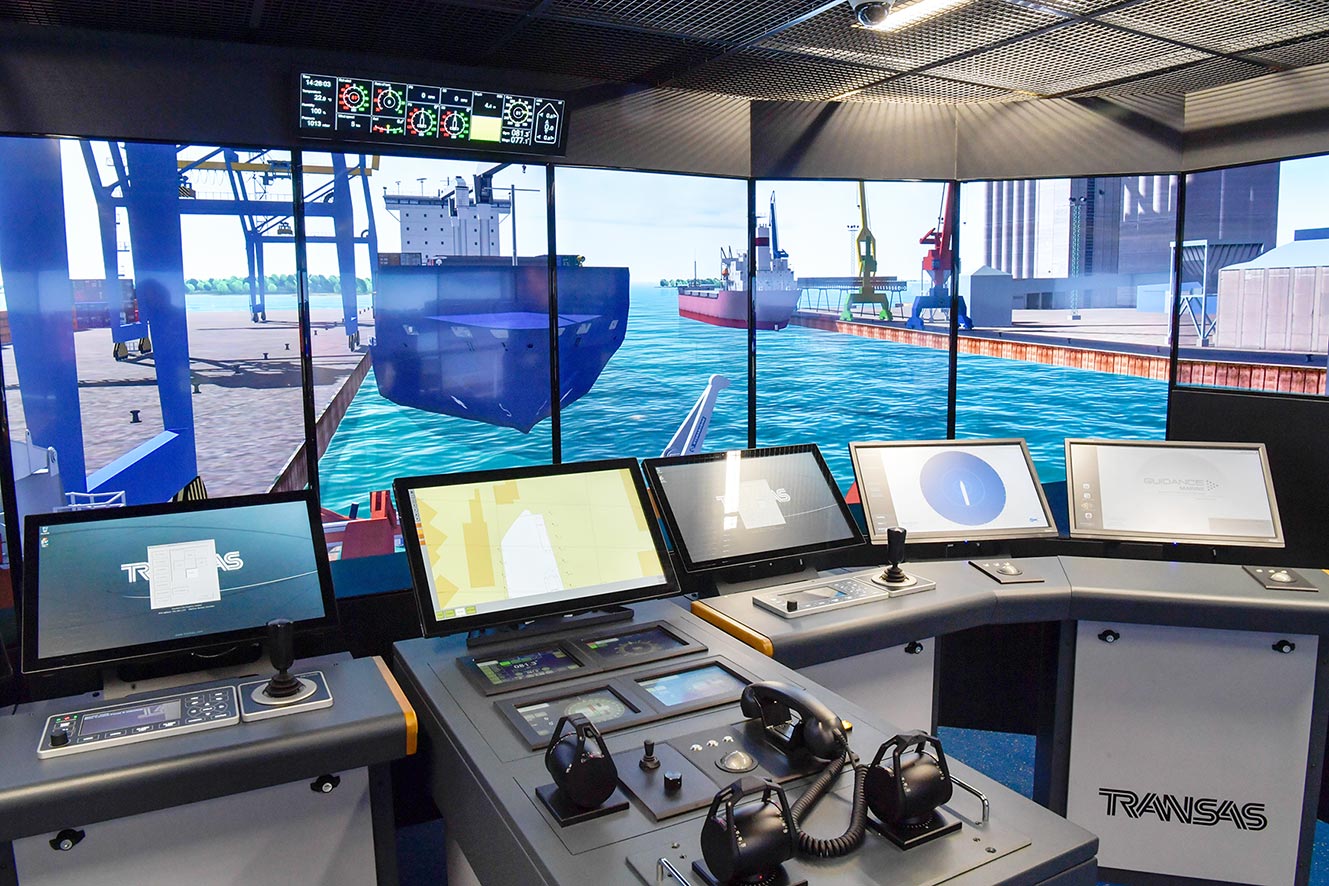 The Intelligent Shipping Technology Test Laboratory (ISTLAB) simulator. Photo by Pekka Lehmuskallio.
The laboratory will be equipped with unique features for simulation of remote pilotage. The simulator contains a Remote Pilotage Station (RPS) for versatile simulation of remote pilotage operations and data transmission and voice communication between the RPS and the ship under remote pilotage. The simulator system of the laboratory will also house a remote Monitoring and Control Unit (MCU) of an autonomous ship, where the measurement data from the onboard equipment is collected and recorded in real time and presented to the operator. The laboratory will also include equipment for analyzing the MCU and RPS user interface and operator functions (such as an eye movement tracker).
The ISTLAB project will provide a unique testing and research platform platform for the development of smart shipping, enabling 1) research of new, intelligent shipping solutions, 2) simulated operational testing in varying conditions, as well as identification of needs for further development, 3) production of doctoral theses and scientific publications on topics related with smart shipping and 4) development of new curricula enabling education of competent seafarers for the future demands.