SAMK-lead maritime collaboration goes ashore in Durban
Text: Elena Sulin
The recently launched collaborative project ISTLAB, or Intelligent Shipping Technology Test Laboratory, aims to build a joint-use innovation environment for the study and development of smart maritime transport solutions.
The prestigious collaboration led by SAMK, has various supporting partners including the Finnish Transport and Communications Agency Traficom, Finnpilot Pilotage Oy, Port of Rauma, Finnish Vessel Traffic Service VTS, WinNova Länsirannikon Koulutus Ltd and Wärtsilä Finland Ltd.
The endeavour was recently presented in Durban, South Africa within the scope of EUROZA, a project part of the Erasmus+ building scheme. Erasmus+ currently takes place between six participating maritime universities to develop processes that will aid the development of Maritime Education and Training.
The visit in Durban between 15–25 of November 2019, included a presentation of the aims and scope of ISTLAB to among others, the Operative Director of Durban Port and representants of Wärtsilä Africa.
The presentation raised plenty of interest amongst the local operators in Durban, particularly due to concerns relating to the ways in which pilots are moved onto vessels. Currently the process includes the use of helicopters, something which is becoming considerably more dangerous with the ever changing weather patterns in Durban.
The new remote pilotage prospects and possibilities enabled by ISTLAB were considered to be of significant value for the future.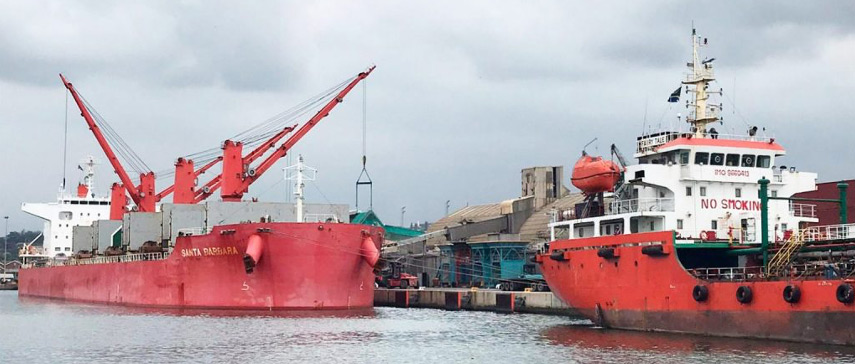 The Port of Durban, or Durban Harbour, the largest and busiest shipping terminal in sub-Saharan Africa.
Additional information:
Meri-Maija Marva | Project Manager
Satakunta University of Applied Sciences |
Faculty of Logistics and Maritime Technology
+358 44 710 3120, meri-maija.marva@samk.fi